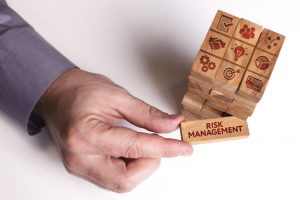 The safety of your company relies on the risk management plan you have in place. In today's world, risk management should also focus on how you and your employees use technology—known as IT risk management. Especially when digitally storing data, giving your employees access to company files, and investing in your network security.
If you ever have to ask yourself, "is my business secure?" there are probably holes in your risk management plan. Since a risk management plan—especially one focused on IT risk management—proactively evaluates your company for the risks you may encounter, you should always be sure of what protections you have in place.
If you are unsure about the security of your business and want to discuss your risk management plan with a professional, our team of experts at Monroy IT Services is here to help! We are a trusted and responsive IT consultant in San Antonio, Texas, focused on helping you protect and grow your business.
Evaluate Potential Risks Often
The potential risks to your business grow every day. While cybercrimes increase every year for businesses of any size, you should also worry about insider risks. Knowing who and what your risks are and where they might come from is the first step in fighting back against any security breach.
By regularly evaluating your potential risks, you can create an up-to-date risk management plan. However, make sure your current plan matches your company's overall needs and growth plans. Out-of-date network security, new employees, phishing scams, ransomware, and break-ins are just a few of the potential risks you face. Identifying these risks by developing a risk assessment will help you protect your business.
Invest in Your Company's Security
Just as you invest in technology, employees, and business ventures, you need to invest in your company's security. Do you know if your network firewall is at risk? Are employees accessing files they should not be? Are your applications and security software up-to-date?
Identifying and evaluating your potential risks and developing a risk management plan may reveal that you need to invest in your business. As a result, you may need new software, hardware, or even a professional managed IT department. By investing the time and money into protecting your company through network security and cybersecurity solutions, you may even save money in the future by proactively stopping cyber or in-house attacks.
Align Your Company's Risk Management and IT Risk Management
There is a good chance your company already has a risk management plan. And, even if you do have a separate IT risk management plan, they may not be properly aligned. By making sure all of your company plans align, you can move your business forward toward success and growth. Focus on developing a risk management plan and an IT risk management plan that work together instead of against each other.
If you have too many plans pulling in different directions, your company may struggle to make decisions with efficiency and ease. Therefore, you may end up spending more money and time each year on routine projects than you anticipated spending.
Prioritize Access Levels
When you evaluate your list of potential risks, you may have stumbled onto the fact that all of your employees have the same access credentials for company files or company programs. Prioritizing which employees have access to what data and knowing when they have access will help you limit potential risks. It will also help you determine who could potentially be responsible for an issue if there is ever a breach.
Remember, not all data breaches or cyberattacks come from outside your company. Set yourself up for success by prioritizing access levels and making sure everyone only has access to what they need.
Educate Your Employees
Add more protection to your business by educating your employees on potential risks they may encounter. When you train your employees on the dangers of simple passwords, phishing scams, malware or ransomware, and the dangers of using personal devices for work, they will be more prepared to help protect your company.
Create a Plan for Business Continuity
Identifying risks and considering precautions may not be enough if you do not have a business continuity plan in place. A business continuity plan is a roadmap for your business in case of an emergency such as a data breach, network security failure, or loss of business due to downtime. Do not risk losing more business—or worse—going out of business because of an out-of-date business continuity plan or risk management plan.
Need help developing the technology portion of your business continuity plan? Monroy IT Services can help you develop an IT risk management plan and a technology-focused business continuity plan. Ask us today how we can help move your business forward!
Learn More About How a Managed IT Department Can Help With Your Risk Management Plan
At Monroy IT Services, we offer comprehensive and proactive network security and cybersecurity solutions in San Antonio, Texas. We plan, implement, audit, monitor, and manage your IT needs as a managed services provider.  We are experts at identifying risks through risk assessment, and we will create a customized risk management plan for your business.