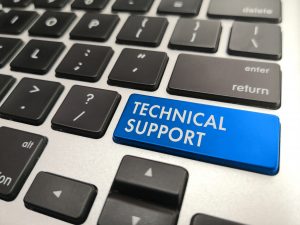 As a small business owner, you know how much your daily work life is all about constantly changing and making adjustments in order to succeed. You also probably recognize how often technology goes through changes, and perhaps you're feeling overwhelmed trying to keep up. There's no shame in admitting you may need a little help.
With that in mind, today's post discusses a few managed service provider benefits and how that can positively impact your business in the day-to-day.
Cost Savings for Your Business
Saving money is a no brainer in your personal life and your business. When you're outsourcing IT services, it may sometimes feel like you're throwing your money away. But when you work with a managed service provider like Monroy IT, you'll be doing the opposite—saving your business money!
Think of it this way—if you're a small to medium-sized business, you may be thinking about hiring in-house IT services. That could be two or more full-time salaries you'd be paying, as well as benefits, vacation time, and accounting for sick leave. If your clients rely heavily on your network and production process, what happens when your IT team is ill or can't come to the office due to inclement weather?
One of the most significant managed service provider benefits is knowing that your network is safe 24/7/365. Plus, decreasing your downtime means less lost revenue!
Increased Efficiency in Your Production
Speaking of downtime, what do your employees do if the internet is down or they're having computer issues? If the answer is "nothing," you're not alone. But here's the thing, outsourcing IT services means your IT company will know when there's a problem immediately.
At Monroy IT, our clients experience 99.99 percent uptime. We work hard to minimize any IT disasters, which means staying ahead of any hardware failures and using secure data backup and recovery tools to help reduce recovery time. Having that peace of mind will not only help your employees but your business as well.
Proactive Security & Performance Measures
As a small business leader, you may not think your company is at risk for security breaches, but that is far from the truth. According to the 2019 Verizon Data Breach Investigation Report, 43 percent of all data breaches target small businesses like yours. If your company is not up to date on the best security practices, it may be time to give us a call.
One of the most significant managed service provider benefits is that most of the time, you'll only pay a flat monthly fee. That means you'll have constant security checks and performance measures done without having to pay any hidden fees. And if your network is compromised, you'll feel safe knowing the problem will get resolved right away without accruing additional charges.
Immediate Expert Access
Unfortunately, technology will always have its hiccups. It's frustrating and inconvenient, but something you have to be prepared for. So when something does happen, you'll want to know that your outsourced IT company will be there to help immediately.
In today's world, we demand things instantly—fast food, streaming services, or even answers to questions via quick internet searches. Your managed service provider shouldn't be any different. Instead of waiting in a ticket queue or talking to an automated system, your IT services should feel more personal.
For example, Monroy IT has 24/7 customer service available to our clients. We also take the time to learn about your business, your needs, and any issues you may want to address. Our team of veteran experts is always there to lend a helping hand.
Focus on Company Growth
When you're not worrying about technology malfunctioning or security breaches, you have time to focus on the things that matter—sustaining and growing your small business.
As small business owners ourselves, Monroy IT understands the importance of time and available funds. So while the investment in managed services may seem like a lot upfront, you'll save yourself money, time, and stress in the long run. And, as your business grows, your IT company can stay the same, without you worrying about outgrowing all of the managed service provider benefits you're used to.
Ready for All of These Managed Service Provider Benefits and More?
If you're ready to take the plunge and begin outsourcing IT services for your company, look no further than Monroy IT. But how do you know if you and your company are ready to choose us?
You Want Your Business to Grow
You Want Enterprise-Class Experience
You Want to Talk to a Real Person Every Time You Call
You Want Predictable Costs
You Want Proactive Support
You Want to Improve Your Processes
You Want Help Whenever You Need It, 24/7/365
Monroy IT is there when you need us, to provide the attention your business deserves. Contact us today for more information!