I have to admit, these uncertain times are causing us here at Monroy IT Services to evaluate all our expenses and make necessary cuts. Some cuts come naturally, like decreased fuel and dining out, since we're generally staying put. Other cuts are more difficult to consider - which monthly expenses are truly necessary for business operations versus those that are "nice-to-haves?"
And I'm sure all businesses are going through these exercises, even to the point of evaluating some of your most critical resources - your staff.
As you go through this exercise, you might begin to consider reducing, or even eliminating altogether, your IT expenses.
Where there are often some IT expenses than can be evaluated, it's important to remember that security is as important, if not more, as ever before. This is the time the hackers and phishers were waiting for.
Think about it. World-wide, people are being forced inside, sitting in front of computers, phones and TVs. The hackers are among those people. They really don't have much else to do right now.
Then, combine that with the migration of working folks out of the secured office environment to their home PCs. So much of our productivity and line of business applications are web-based, so the work can be done from anywhere. But people typically don't setup their home networks as secure as those configured in an employer's office. We've seen home routers with the default usernames and passwords, open wifi with no password, and even home computers with risky file sharing applications.
So your employees are working from home on a completely unsecured network. This is the hackers dream.
We've already started seeing increased attempts from phishing emails. Here's one I received this morning.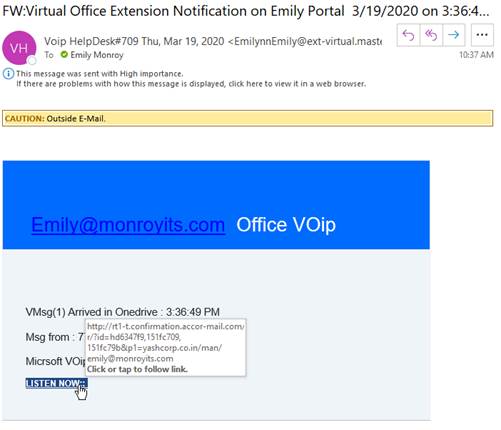 There are a lot of tell-tale clues in this email - can you spot them?
With all this increased activity, it's not the time to cut your critical IT services, but it IS time to evaluate the security risks in these new working arrangements. Here are some questions to think through:
Which employees are critical to business operations to continue, and therefore will need to work remotely?
Do they have business-issued laptops? Or will they need to use a personal workstation?
Are the critical applications web-based? Or would remote access to apps or data on a business server or workstation in the office be necessary?
Have all employees who will work remotely read and agreed to a remote work policy?
Are there any basic security requirements that the home office setups must meet to protect your business?
After listing out the answers to these questions, you should have a discussion with your IT Service Provider or IT Department to create solutions to meet your business needs. There are a wide range of options available depending on each business's requirements, all with varying costs associated.
If you don't have a trusted partner to help you through these questions and uncertain time, Monroy IT Services is here to help.