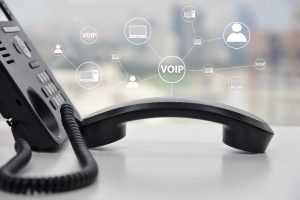 If you're just getting to know us at Monroy IT Services, you may not realize that we serve a broad range of business and nonprofit organization clients in and around San Antonio.
From manufacturing corporations and healthcare systems to architecture and accounting firms, law offices, and publishing businesses, our approach to providing expert IT support and managed IT services can maximize profitability for companies in nearly any industry. And the same holds true for VoIP phone systems (voice over internet protocol)—these cloud-based business telephone systems benefit all industries!
If your San Antonio business is still relying on outdated landline phone service and technology, the chances are good that you could be saving money—and frustration—by switching to a VoIP system, regardless of your industry. That said, today's post takes a closer look at some of the features that VoIP offers, which might benefit your particular business most.
Quick Review: What are VoIP Phone Systems?
Simply put, VoIP phone systems utilize your existing internet connection to transmit voice phone calls instead of the traditional public switched telephone networks (PSTN) of old.
There is a dizzying array of VoIP systems on the market today, but choosing cloud-hosted VoIP through a trustworthy IT managed services partner makes installing and using VoIP phones a snap. Leave all of the tech decision-making to us and reap the rewards of an incredibly flexible and capable phone system!
Here at Monroy ITS, our Cytracom hosted VoIP solutions include over 150 robust features, as well as 24/7 support in case you ever have problems or questions.
One of the most significant advantages VoIP phone service offers is seamless support for a remote workforce. As the recent pandemic has forced many of us out of our offices and into the new frontier of working from home, you may be wondering how you could improve your business phone system so that it can move with you. The answer is VoIP!
Now, let's take a look at some of the most popular features that VoIP phone systems typically include, especially if you choose a hosted VoIP solution. If your business is part of any of the following sectors or industries, we think you'll be particularly interested in what upgrading to VoIP can do for you. Read on to learn more about some of the VoIP convenience features your employees will appreciate.
VoIP for Professional Services Organizations and Nonprofits
Businesses like marketing agencies, accounting firms, law offices, and publishers serve individual and other organizational clients by providing critical services that depend on precise communications. Similarly, many nonprofit organizations are dedicated to connecting people to promote significant causes. While email and even text messaging is key to this communication, so are good old-fashioned phone calls.
Some of VoIP's best features, like easy conference calling, voicemail-to-text/email, and crystal-clear HD sound quality, make those phone calls so much simpler and more comfortable for employees and your clients, helping everyone stay connected.
VoIP for Healthcare Providers
Healthcare providers, like primary care clinics, specialists, and even large hospitals, can benefit from advanced VoIP features. These include built-in company directories, automated assistants, and even find me/follow me call ringing that can allow calls to be picked up from a variety of locations, including a cell phone.
Because healthcare businesses are always seeking to make a great first impression on patients and other callers, some of the customer service-focused VoIP features—like custom on-hold messaging/music and simple time-of-day call routing—can help keep business communication highly professional. The best part? These features don't typically cost extra, and they can be bundled with your VoIP phone service for one low rate.
VoIP for Global Manufacturers
For manufacturing companies, business communication often centers around connecting with suppliers, vendors, and sales personnel, who may be scattered across the country or the globe. Traditional analog phone systems make this communication extremely complicated—and often extremely expensive, too.
With VoIP, domestic "long-distance" calling is typically included in your phone service plan, so you don't have to worry about lengthy calls across the country costing a fortune. International calling is often simplified, too, and is similar to what you experience with a standard cell phone plan. Additionally, with simple conference calling and even video chat features available on some VoIP systems, you never have to worry about missed connections or lost deals.
Ready to Make the Switch to a VoIP System for Your San Antonio Business?
While there are definitely some big questions you should ask before you move to VoIP from a traditional analog landline phone system, Monroy ITS has the straightforward answers you're looking for.
When you're ready to level up your business communications here in the greater San Antonio and Texas Hill Country area, we're here to help! Get in touch with the knowledgeable VoIP phone system experts at Monroy ITS today to get a quote for your new business phone service.