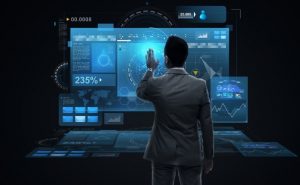 As technology advances, business owners need to understand not only the ins and outs of their respective fields but also what technological tools now exist that could help their business to be more profitable.
Two such advancements that can benefit even small businesses are big data and cloud computing. These advancements offer impressive benefits to businesses both when used separately and when combined.
What is Big Data?
The term "big data" refers to the entire collection of data a business amasses—everything from inventory and sales to social media posts, videos, and publicly available data. It's called big data because it is generally too much data for businesses to store efficiently, let alone analyze, on in-house servers.
All businesses collect and store data. Until big data became a reality, most of the data any business stored were in a structured format, such as sales and inventory figures, which could comfortably live in spreadsheets. Unstructured data, however, are things that can't be as easily organized, like social media posts and videos.
Storing Big Data is a Challenge that Can Make it Less Useful
Businesses could learn a lot from both structured and unstructured data if they only had the means to store it all and in a format that could be analyzed. By storing and analyzing big data, businesses can glean more information that's useful in decision-making. Analyzing big data lets businesses see trends that were previously impossible to detect, which may help boost sales and reduce expenses.
Businesses can use big data analyses to help them retain customers, innovate products, manage risk, and improve marketing. For example, Coca-Cola uses big data to help them retain customers, and Netflix uses big data to improve marketing.
Know the 3 Vs of Big Data
There are three tenants of big data, known as the "three Vs." They are the volume of data, the velocity of collection, and the variety of data types.
The bigger the data, the more powerful the analytics systems need to be. This is where cloud computing can assist. 
What is Cloud Computing?
Here at Monroy ITS, we offer cloud computing as one of our comprehensive managed IT services, though many business leaders don't actually know what the terminology means. Let's change that!
Typical businesses operate using a network of local desktops, laptops, storage servers, and a variety of software programs and applications. Historically, as businesses expanded their staff and production, they also had to add more servers and IT professionals to manage the in-house network. Cloud computing is an alternative whereby businesses of all types can access all the software, applications, and storage they need from anywhere via the internet.
Cloud computing enables businesses like yours to increase storage capacity and access to software programs, including robust analytics programs like the ones necessary to process big data. With cloud computing, businesses only pay for the storage and programs they use. This can translate into IT cost savings, making cloud computing a smart choice for any company's bottom line.
Cloud Computing Makes Working from Home Simple
With cloud computing, employees can access files and programs from home, or anywhere they happen to be so long as they can connect to the internet. This particular feature has enabled businesses of all sizes to stay operational during the continuing COVID-19 pandemic. Has your company had success with remote work?
Cloud computing affords protection to business operations not only during a pandemic but also when natural disasters or power outages prevent employees from getting to the office. Being able to log onto the cloud from anywhere dramatically speeds up disaster recovery. It also means that data and programs essential to business operations are stored safely off-site, a vital component of any business continuity plan.
How Cloud Computing Works with Big Data
Software programs that can analyze big data require servers with faster speeds and large storage capacity—faster and more substantial than most businesses have in a typical office network. Cloud computing, however, uses servers with unlimited storage capacity and the fastest processing speeds, meaning that cloud-based intelligence tools can process any amount of data with ease in minutes rather than hours.
Big data can also be shared more easily via cloud computing. Some popular examples include cloud storage applications like Google Docs and Dropbox. Cloud computing can make every aspect of a business run more efficiently, from human resources to sales. There are now cloud-based intelligence programs for HR software, customer relationship management, and so much more.
When the data is large enough, parallel processing systems, or artificial intelligence (AI), are needed to analyze it efficiently. When combined, cloud computing and artificial intelligence can process any amount of data rapidly.
How Small Business Can Access Cloud Computing to Process Big Data
Navigating the new world of cloud computing and big data is best done with the help of a managed services provider who can tailor a program to meet your business's particular needs. Cloud computing can be available from service providers in three different ways: Software-as-a-Service (SaaS), Infrastructure-as-a-Service (IaaS), and Platform-as-a-Service (PaaS).
Need Help With Your Big Data Here in San Antonio, TX?
Businesses in San Antonio seeking cloud computing services can turn to us here at Monroy IT Services for all your cloud computing needs. The best part of cloud computing is that your business only needs to pay for the services you actually use! And this means you will no longer need to spend as much on in-house hardware and IT staff.
Making the leap to cloud computing to handle your big data can provide more efficiency and security to business operations, particularly in these challenging times. Get in touch with our expert team here at Monroy ITS today and discover how managed cloud computing can accelerate your business's success.