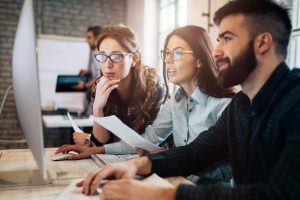 Because every business depends on information technology (IT) to get work done, business owners must also manage their IT. For businesses in many of the industries we serve here at Monroy IT Services, this can be especially challenging since technology is not necessarily at the core of what they do. For instance, healthcare businesses were designed to serve people, but much technology underpins that work today.
Instead of hiring in-house staff to manage IT, companies large and small should consider outsourcing their IT services to a capable managed services provider (MSP). As we've talked about here on the blog in the past, MSPs offer everyday business benefits that you may not have considered. And today, we're exploring some more of the reasons why outsourcing makes sense—especially for smaller businesses.
Reasons for Outsourcing IT
It's a fact. Business owners need to focus on their core business to be successful. When IT management is not your area of expertise, trying to manage IT yourself or hiring in-house IT staff will mean spending valuable time focused away from your core business.
It has been proven time and time again that hiring in-house IT staff will also increase expenses—for these individuals' salaries, benefits, and ongoing training. Outsourcing IT saves business owners real money and valuable time.
And we know what you might be thinking—"outsourcing" sounds a lot like the poor tech support experiences you may have had in the past with foreign call centers. When we talk about outsourcing to an MSP, we mean hiring a local IT services partner right in your own community, not across the ocean! Here in San Antonio and the Hill Country area, your best resource is Monroy ITS, an award-winning MSP committed to helping your business grow by reducing your technology headaches.
The 5 Biggest Advantages of Outsourcing IT Services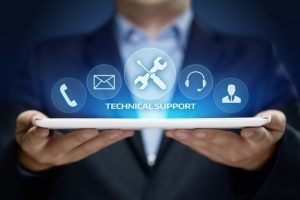 You probably know that information technology is a powerful set of tools that keeps your business operating. Some business owners and managers see it as a "necessary evil." However, when IT is appropriately managed, it can also increase your business's efficiency and success.
In the current economic situation, businesses need every advantage they can get. Outsourcing IT services provides businesses of all sizes these five key advantages:
1. Cost Savings
When businesses outsource their IT services, they save money because they don't have to hire in-house staff or pay for benefits, wages, and training, as we mentioned above. You will also be protected against losing money when less experienced, in-house IT staff make mistakes. When outsourcing IT, you simply pay a fixed monthly fee that fits your budget for the services you need, freeing you to invest cost savings back into business development.
2. Expanded IT Solutions
Experienced IT professionals stay current on the latest technology and know what software programs, applications, and hardware are right for any task. They can help you to select the best solutions for your growing business. When hiring an MSP to provide managed IT services, you get the benefit of an entire team's experience and expertise.
3. Improved Data Management
Outsourcing IT services to an MSP means business owners now have access to enhanced storage options and protections for all the data their business collects. This is especially beneficial to businesses that handle sensitive data governed by compliance regulations.
4.  Reduced Risk of Business Interruption
System failures, lost data, and data breaches can impact business operations and profits. They can also completely destroy small businesses. MSPs can make sure that your company's network is protected from viruses and infiltration by hackers. MSPs can also monitor the system to prevent system failures and manage data in ways that make it quick and easy to retrieve.
5. Access to Cloud-Based Services
Perhaps the best benefit of hiring IT support is that it gives businesses access to cloud services, which are more powerful than what businesses would have in-house. The term "cloud services" refers both to the storage of large amounts of data as well as to cloud-based computer programs that can analyze data faster than installed programs and at a fraction of the cost.
Determining Which IT Services to Outsource
When considering outsourcing IT services, you don't have to outsource everything. Instead, you can pick and choose which IT support services to keep in house and which to outsource. Employee skillsets, time, and budget are the three top factors affecting decisions about which services to outsource.
When in-house staff has the skills to handle IT services effectively, there may not be a need to outsource. However, when a task requires specialized skills, outsourcing is recommended. Outsourcing specialized IT services—such as installing and managing a VoIP phone system—frees you and in-house staff to focus on your core skills. It also ensures that the specialized task will be accomplished correctly and efficiently.
Time is of the Essence
When an IT task is taking too much time to complete and costing you time away from your core business, it is time to outsource that task. IT companies have access to the latest software programs, enabling them to perform tasks faster. Outsourcing such tasks will free you and your staff to refocus on the core business.
Determining what IT tasks to outsource can also come down to budget. How much can you afford to spend on managed IT services, and how much can you gain by doing so are questions you need to ask. If you can afford to outsource an IT service, it is generally better to do so because you will be free to put more time and resources into the core business. As the business grows, you can always expand the list of services you outsource to meet your changing needs.
Are You Ready to Outsource IT Services?
Every business reaches a point when they need to outsource some or all of their IT services. When selecting an IT company, be sure they are local so that service can be timely and not affected by differing time zones. Also, if your business handles data that is regulated, be sure the IT company can provide compliant data storage and solutions.
Here in San Antonio, learning more about outsourcing your IT services is just a friendly phone call away. Contact us at Monroy ITS for your free technology consultation today!