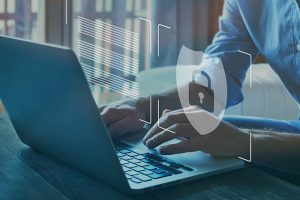 We've had a data breach.
Those five words can spell disaster and be a nightmare for small business owners who have older IT systems and haven't taken the necessary steps to keep up with today's modern hackers. Whether you are a new or seasoned business owner, you might not know how easily hackers can place malware or ransomware on your networks. They can then hold your company for ransom—or worse, hack into your system and steal the personal information of your customers and employees.
IT security from a trusted cybersecurity company is essential if you want to remain competitive in today's business world. For small- to medium-sized business owners, that means having the necessary cybersecurity solutions as a risk-management strategy to protect your business from cyberattacks and threats.
As technology has improved, so have hackers' abilities to access your sensitive data, and that's why it's so important to let the professionals at Monroy IT Services protect your company's network. For over a decade, we have helped hundreds of businesses like yours in San Antonio, TX, increase profitability by streamlining IT operations and protecting their business from cyberthreats.
Do I Need to Hire Cybersecurity Professionals?
As a small business owner, what is the one thing that your business needs to keep running?
Is it people?
What about customers?
How about a vendor list?
Or maybe, it's a system that holds all the data needed to make your business run smoothly?
If you answered, "all of the above," you need to hire cybersecurity professionals to protect your business. All four of these essential business components are potential IT security risks, especially if you haven't hired a cybersecurity company to safeguard your company's proprietary data.
Suppose your company uses computers to operate, place orders, bill clients, or pay employees. In that case, any disruption to your computer network—whether through a power failure or cybersecurity breach—can cost your company a lot of money.
That's why it's essential to hire cybersecurity experts like Monroy IT Services to protect your business against hackers and other cyber threats. We can help defend your bottom line and keep your business moving forward in today's competitive business world.
Which Company is Good for Cybersecurity?
A local IT company is best for cybersecurity protection. When researching cybersecurity companies near San Antonio, TX, one of the first things to consider is location. They say location is everything, and that's especially true for small business owners.
Finding a local IT security team can save you time and money, so if there is ever a problem that can't be fixed remotely, you know support isn't far away. Unlike some larger companies, a local IT company can assess your network problem and usually send an incident-response repair team within hours, not days.
At Monroy IT Services, we've been helping small and medium-sized businesses secure their networks since 2007. Contact us today to schedule an appointment and let our friendly team create a detailed plan to protect your sensitive data against security breaches.
What Do the Best Cybersecurity Companies Do?
Beyond protecting your business from hackers, providing work-from-home solutions, and backing up your critical data, a good cybersecurity company will provide:
A professional and courteous staff: Nothing frustrates customers more than companies not showing up when scheduled. This annoyance is the same for an IT company—you want IT professionals who show up as expected and efficiently perform their duties.
An explanation of how the system works: If you have questions, a good IT professional will explain how the system works and answer basic questions. Sometimes, a simple problem can be corrected by simply calling your trusted IT company for remote assistance.
Ongoing support: Hiring a professional IT team means your company will no longer have to worry about cyberattacks and data breaches. Instead, your computer network will be monitored, and ongoing support and training will keep your business growing into the future.
Protecting your business against security breaches is vital, so knowing what to expect from your chosen IT security team is an important decision. If your current IT team isn't providing the security services you need, then it's time to switch to Monroy IT Services.
Are You Ready to Hire a Cybersecurity Company?
Businesses in San Antonio looking to find out how to update their security systems to protect against hackers and other data breaches need to call the experts at Monroy IT Services to schedule an appointment. Our cybersecurity company in San Antonio, TX, can identify the steps you need to take to ensure your business is protected against data breaches, so call and schedule your free technology consultation today.