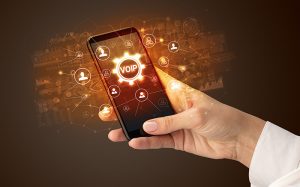 Technology is continuously improving, and today's Voice over Internet Protocol (VoIP) technology is no exception. What started as a lower-cost option to landlines has branched out and become a benefit to businesses of any size, from startups to brands with multiple offices. This easy-to-use, cloud-hosted communication tool has taken voice calling and made it easier for your clients, coworkers, and customers to stay in touch with you.
Thanks to hosted VoIP, San Antonio-based businesses have expanded their reach globally without dramatically increasing the costs of their communication technology. When you trust Monroy IT Services with your VoIP needs, we will provide you with a simple setup and mobility that follows you from your desk to anywhere in the world, so you never miss an important message.
1. Easy to Use
There are many benefits of using VoIP, but the most attractive to business owners is how easy it is to use. While traditional landlines require lots of wiring and set up with each new device added, VoIP is a system where you can plug in a new IP phone and start taking and making calls right away. Setup is a breeze when you work with Monroy IT, and using VoIP requires very little training. You'll use the phone like you usually would, with the added features benefiting you from day one.
Convenient
Not only is the hardware much less bulky than traditional landlines, but VoIP is also extremely convenient because it is fully portable as long as you have access to the internet. It also has other features you would not get with traditional phone systems. Stored contact lists, voicemail that can be converted from speech to text and sent directly to your email, and time-of-day routing settings are just some of the perks of using hosted VoIP. At Monroy IT, we offer over 150 features for our VoIP and promise 24/7 support for any issues or concerns.
2. Affordable
Once they have switched to VoIP, many businesses find that one of the advantages they enjoy is decreased costs for communications. Hosted VoIP goes through the internet. As such, there are no costs associated with long-distance calls, additional lines, or charges for additional minutes like you might encounter with a more traditional phone system. VoIP rates are typically once-a-month fees that can be budgeted and planned for, and with our services for VoIP in San Antonio, you can now speak to people all over the globe for one monthly fee. This cost efficiency is significant to businesses that handle communications with clients outside of their state or country.
Upgrading Technology is Necessary for Today's Remote Work Climate
The way we work has changed significantly from even a decade ago. The ongoing world health crisis of COVID-19 has made remote working a more desirable method for companies to conduct their business. Because of this, there is an increase in the need for technology that supports working from home. VoIP is ideally suited for this environment, and upgrading your network lets you incorporate this popular work environment into your benefits package. If you have questions about upgrading to a VoIP system, don't hesitate to contact us. Our IT experts are ready to speak to you about converting to VoIP in San Antonio!
3. Improved Customer Service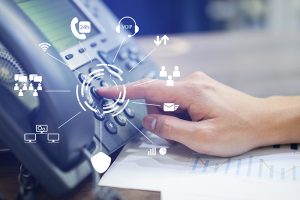 VoIP improves your customer service in several ways. You will notice an increase in your call quality thanks to the frequency range of VoIP, which extends past the capacity available for traditional landlines. This higher range means more voice clarity, so the person on the other side of the call will have a much easier time understanding what you are saying, decreasing their frustration with miscommunications.
Another benefit to VoIP is its automatic assistance settings. You can have a prerecorded message telling your caller things like your hours of operation or that you are away and will be back on a set date. You can also choose to have calls routed to several phones at once and transferred to other lines before the customer reaches voicemail. Rerouting the call is incredibly convenient in the case of internet outages. While VoIP does need an internet connection to work, you can set calls to route to a cell phone or other available phone in case of a downed internet connection, so you'll never miss a call! This type of dynamic access to communication is crucial for superior customer service.
Scalable to Your Business Needs
VoIP can scale with your business to grow with you or scale back if needed. When your business grows over time, you will need to add new employees to your phone system, and using VoIP ensures this won't be time-consuming or of significant expense. A new line for a VoIP system only takes a few minutes to set up!
Ready for Monroy IT Services to Upgrade Your Phone System to VoIP?
Your business relies on communication to grow and thrive. Upgrading your phone system to VoIP through Monroy IT Services means you will have access to an incredible communication network with support unmatched by other IT companies in the San Antonio area. With easy calling, high-quality sound, and the ability to transfer calls to any device, including cell phones, your business will never miss or drop a call due to poor-quality service or connection. Schedule a call with us today, and we can talk about how your phone system is holding you back and how we can provide a solution to your communications issues. There is no charge and no obligation for us to evaluate your phone service needs, so get in touch with us now!