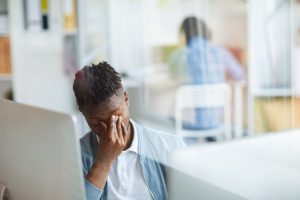 Working with any digital technology means you have a duty to protect the data your customers entrust to you, whether you are a small business, a large company, or anything in between. Unfortunately, cybercriminals spend their days looking for easy targets, and employees make errors that may lead to compromised data. Because of these, businesses experience data breaches and other IT disasters every day. If disaster strikes, do you have a data recovery plan in place for how your business will respond?
It can be frustrating to work with an IT company that doesn't understand how important it is to quickly respond to your business's disaster recovery needs and provide practical solutions to protect your reputation, profits, and employees. If you are looking for IT support from a company that genuinely cares about protecting your customers' data and your business, look no further than Monroy IT Services. We will help you assemble an effective disaster recovery plan and support any other IT needs you may have.
What Is a Disaster Recovery Plan?
The definition of a disaster recovery plan is relatively self-explanatory. It is a plan that aims to minimize consequences for any data loss event and begin a recovery process to reestablish the information lost. This plan should be part of your overall strategic IT plan and regularly reviewed and tested.
What Are the Parts of a Data Recovery Plan?
The data recovery process is long and messy if you do not prepare yourself before an IT disaster. You can tailor these five steps to your company's needs to create a successful disaster data recovery plan before any loss of information ever happens.
Assign duties to your team. When disaster strikes, you want each person to have a pre-assigned task they are responsible for so the recovery process can begin immediately and happen smoothly.
Prepare a statement. After a data breach, your customers or clients will look to you for information about what will happen next. If you can soothe them with some information and a statement about what steps you are taking to reverse the damage, you may be able to repair their perception of your company. It may also help to outline how you plan to protect their recovered data from future breaches.
Create a list of your assets. This list should include people, hardware, and software. You want to know how many things you are responsible for after a data breach and writing out a list beforehand can help you minimize your stress if you face an IT issue.
Establish backups. Backups to an external storage device keep your data safe by replicating it. If your computers are compromised, backups from the storage media can help you recover files quickly and get your business up and running again after the breach has been addressed and fixed.
Test your process and machinery, including all software and hardware. This step should be last in your plan, so after you've tested, you can adjust your plan as necessary. Remember to test, modify, and repeat as many times as necessary until you are satisfied.
When you've successfully outlined your disaster recovery plan, make sure to update it or at least review it once a quarter to ensure it continues to reflect your business and IT landscape. Having an outdated plan is almost like not having one at all.
Why Is It Important?
There is not just one issue that can cause a data loss situation. One accidental click might be enough to delete critical information that you can't access again if you don't have backups. Permanent data loss can occur, or recovery can take so long that you lose income while you're waiting for your system restoration.
Customers or clients may stop doing business with you, and you risk your reputation in a way that affects future client potential. And finally, you may lose employees because you need to terminate some of them to decrease costs after your clients go elsewhere.
If you don't have a disaster recovery plan in place, the damage to your finances, team, and reputation can be irreversible. Having a plan in place to recover data you have lost, whether accidentally or through malicious means, can keep your business from losing team members, productivity, and clients.
How Can You Prepare for Potential IT Disasters?
When you have the mindset that you will eventually encounter an IT issue, you are much more likely to have a plan in place that will work. This fact should not scare you but instead encourage you to recognize that you are not immune to IT problems or data breaches. Accidentally deleting a file is easy to do, no matter what job your employees have. And data recovery software might not be able to recover deleted files, despite their claims.
No one knows what will happen in the future, especially where technology is concerned. Prepare for potential IT disasters by working with an IT company like Monroy IT Services to ensure you see any weaknesses in your IT systems that might be present and figure out how to fix those. It might just mean the difference between data recovery and data loss.
How Can Monroy IT Help You with Your Disaster Recovery?
Your business plays a vital role in keeping your customers' data safe. When you work with Monroy IT Services, we can help you plan for what to do in case of a data breach and get procedures into place to help prevent those breaches before they happen. Having a data recovery plan in case of disaster can help mitigate any losses in the unfortunate case of a data breach. Get in touch with us today to help you prepare for all types of IT data breach scenarios—worst-case included!