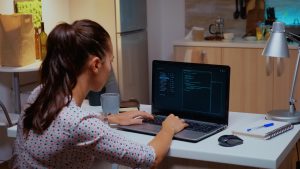 We are a few years into the COVID-19 pandemic, and because of this global health crisis, we've lived through a rapid transition into a new way to work. Remote workers make up a much larger part of the workforce than they did just a few years ago, and for many businesses, this change happened so quickly that it felt like it was overnight.
Despite having a few years of experience with a more work-from-home friendly workforce, many businesses still lack a solid security plan for their remote workers, risking their business's sensitive data. Even if your company operates on a hybrid schedule with employees working from home most days and coming in a few times a week, you still need a solid security foundation for remote days.
Working with Monroy IT Services can elevate your security measures and help you develop a work-from-home cybersecurity plan that meets for your company's needs. Secure remote workers' devices now to prevent major cyber disasters in the future.
What Are the Risks Associated with Having Remote Workers?
One of the main reasons companies were hesitant to embrace remote work at the start of the pandemic was the potential for security problems and concerns about productivity. Those concerns are valid, mainly because a remote employee choosing to open work-related files on a device that isn't company-issued, even one time, can be the opportunity a cybercriminal needs to access the rest of the company's data.
When your employees work from home, you are not there to watch what they're doing or ensure they're using the proper hardware.Other risks of having remote workers besides accessing company information on a personal device include:
Accessing company data on unsecured networks, like coffee shop WiFi connections.
Leaving a company device unlocked when stepping away from the workstation risks other people gaining unauthorized access to the device.
Having weak or simple passwords can make them easy to guess and grant access to cybercriminals unintentionally.
Sharing files on unencrypted channels or through email.
However, despite these dangers, we have learned that fruitful remote work is possible and can be safe when performed with cybersecurity care measures in place. Giving your employees the right tools to succeed in this environment includes effective cybersecurity measures to prevent data breaches.
How Can I Minimize My Business's Security Risks from Remote Workers?
Even though we've highlighted some severe risks with having a remote workforce, that doesn't mean preventing issues, and having a successful, safe, secure remote team is impossible. You and your IT team can do plenty of things to minimize the risks associated with remote workers.
Use two Factor Authentication On all company devices
Two-factor authentication (2FA) is a fantastic way to add a layer of security to your systems. With 2FA, your logins require a second confirmation that it's you trying to access your device. For example, when your employees try to log in to their work computers, a 2FA app will prompt them on their cell phone to either grant or deny access.
Adding a multifactor authentication element to your login systems helps keep cybercriminals out because it is much more difficult to access the device if they do not have the second device with the 2FA trigger.
The 2FA trigger on an employee's cell phone can also act as an early warning system. If they are not trying to access their work device and yet receive a trigger, they can immediately contact your IT team and let them know that someone is potentially trying to access a work device.
Have Antivirus Software Installed
In the 90s and early 2000s, computer viruses were a hot topic. With computers becoming commonplace in the home, people were beginning to experience computer viruses, and cyber criminals gained access to home networks. Having company-approved antivirus software installed on all work-related computer equipment is crucial for a secure computer network.
The world of computers was not as familiar and widespread as it is today, and antivirus software was not nearly as sophisticated as it is now. While there are many more computer viruses today than there were in the early days of home computers, there are also many more antivirus software options to combat these viruses.
When your remote employees work on company devices, you control the type of antivirus measures they use. Choosing an antivirus software you trust will help you keep your devices and your company data safe in today's digitalized world.
Schedule Cybersecurity Training and Reminders
Your team does not have to be cybersecurity experts. Still, regular training and reminders of cybersecurity threats will help them think twice about doing something that may pose a risk to your network.
Cybersecurity training can be as simple as short videos and quizzes about different topics like phishing scams or password strength. You can choose to do something like a monthly hour-long meeting where your whole company discusses cybersecurity concerns. This type of company meeting can help inform your overall security plan for the year.
Utilize VPNs and Password Managers
A virtual private network, also known as a VPN, can help keep your company's data secure. It creates a connection between the work computer in your employee's home and the office network, so you can access all the files you need for work despite being in separate buildings. VPNs protect your information for a more secure remote access working environment.
Password managers add a similar layer of security. Because employee-chosen passwords are often weak, having a password manager for your company accounts can help you keep track of your passwords and change them often enough to make accessing your accounts difficult for cybercriminals. Plus, they eliminate the dreaded security nightmare "password on a sticky note attached to the device" you may be used to seeing in some office settings.
Have a security plan in Place
We live in a world where technology changes rapidly every day, and work-from-home cybersecurity is now a familiar topic for most people. These fast changes mean we need security measures to protect our data from innovative cybercriminals and a plan for what to do in case of a data breach. A thorough security plan includes elements of software and hardware updates, disaster recovery solutions, and an accountability record to ensure everyone is doing what they should to keep your company safe and secure.
Review your cybersecurity plan once a quarter and implement changes where needed. Once a year, determine what hardware upgrades will be required for the coming year to help keep your budget on track for those upgrades.
Can I Improve Work-from-Home Cybersecurity Measures?
Even if you already have work-from-home cybersecurity measures in place, there's always room for improvement. You can improve your cybersecurity measures by working with a managed IT provider like us here at Monroy IT. We can help you identify where you may have weaknesses in your security protocol and help you establish better security systems and keep your data safe and your remote workers productive.
Do You Need Help with Your Work-from-Home Cybersecurity Protocols?
Work from home cybersecurity concerns are much more common now than ever before in global history, and you deserve a team of IT experts who know what will help you navigate any concerns you may have. Please work with us at Monroy IT for all your business technology needs, including remote work security here in the San Antonio, TX, area.