HIPAA Compliance Services
We offer HIPAA compliance services to providers and your patients to make sure you're protected when it comes to sensitive healthcare information. Under federal HIPAA regulations, you are required to have specific policies in place to protect Protected Health Information (PHI). HIPPA security policies and procedures cover both the administrative standards of the Privacy Rule and the cyber-security requirements of the Security Rule.
HIPPA compliance can be daunting, especially for a small provider whose focus is on his patients. That's where a managed IT services provider like us, familiar with HIPPA compliance technology, can help. Our HIPPA IT Compliance Checklist helps ensure we cover all the bases and deliver the business tools you need to protect PHI data.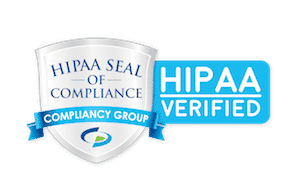 Our compliance services cover:
HIPAA Regulations
Security risk assessments and audits
Security requirements and monitoring
Documentation and policies
HIPAA security policy and procedures go beyond securing PHI data. That's why we have teamed up with Compliancy Group to offer a complete solution for your HIPAA compliance and security needs. Their HIPPA compliance software, Guard, is cloud-based and provides everything needed to ensure compliance. The software allows you to address the four standards of HIPAA Administrative Simplification Regulations covering transactions, identifies, code sets, and operating rules. With Guard, you'll get complete confidence that you'll meet HIPAA compliance.
We Deliver Excellent IT Service
Our value proposition is simple.
We proactively monitor and maintain your devices, servers, and network to secure your revenue through business continuity.